Hit the close X to widen =>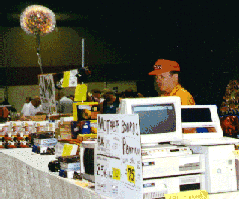 Computer, electronic & HAM experimenter parts, I Buy CPU's, memory, etc., ., . Look for Hamfest / Computer Show Links and other features. . Updated 1/21/10
D F Electronics..
3910-J Fairmont Parkway, # 360 , Pasadena, TX 77504
Seen at Mid-South Hamfests, 40 years experience in electronics, Ham Radio, and Computers since Z-80's. . . .
Wi-Fi adapters USB, PC card, or PCI $19.95
Handiest thing since canned beer: USB adapter w/10dB antenna. Long range. $49.95 Stuck in that far end of the hotel underground? Your neighbor is 3 blocks away, and you just can't quite reach him to share? (with permission, of course).
MB/CPU combo w/AMD Dur.1600, $69. New in box, subj to availability.
Quad/Dual Core Intel/AMD CPU/MB combos also, $99 and up..
Don't want to do all that messy hardware mounting ? Get my "Upgrader's delight system". Motherboard, VGA, sound, CPU, RAM, case/ps all assembled. When you get it, will power up, there is no doubt it's alive. You take the Hard Drive, CD ROM, & whatever is still usable in your old system, & mount it in this one. This is ideal for Packard Bell, HP, Compaq owners. $99 & up depending on CPU, and RAM.
Pentium System, CD, sound, etc. $49
ATX Case/ps $39. . . . . . ATX power supply, $19.. . 480W $25
Antique restorers: Older chips, MB's cards avail.
DDR2, DDR PC2100 thru 10000, SDRAM & SIMMS available.
............................. ADD ON CARDS & MISC. ......................
56K F /V/D V.90/V92 modem $ 9.95. Jumpered modem $ 5
NIC: $ 4.95. . SCSI card, PCI, Adaptec.$19 w/run CD, Scanner, etc.
Network gateway box $199. Let public have password access to wi-fi, but they can't get into your system.
USB to Parallel or Serial port adapter, $19
USB 2.0 PCI card $15 Add USB to older Pentium MB that doesn't have the header pins for it.
PS-2 KB to DIN adapter $2, also many other adapters & cables, call/write..
Case vent. fan, $4 . CPU Fan, sleeve/b.b $3/$6. .CPU Fan Really big! 3" fan, enormous heat sink for overclocking $15 Also large fan w/ 3 clip holes for when you break off the tab on the CPU socket!.
- - - - - - - - - - - - - - - - - - VGA Cards - - - - - - - - - - - - - - - -

PCI or AGP VGA cards, $2 & up. limited qty
32 Meg AGP 4x: $9.95.
64 meg AGP w/TV out, $29
- - - - - - - - - - - - - - - MULTIMEDIA - - - - - - - - - - - - - - -
Sound card, PCI $15, ISA $5 .. . Stereo Speakers, $8 pr. & up...
DVD +-RW, $39 CD R-W $29. CD ROM, >32X $15. . .
"Optical" Mouse, no ball or mousepad needed. $7.95.
Digital Multimeter, $4.95 . .
LED Flashlight, -9-LED's, $5 24 LED $7
Headlight w/8 LED's, $11.95 .
Laser pointer $2 . . .Power Strip, 6 outlet, $3
AG-13 batteries, 10 pack: $2 3.2v Lithium "coin" batt., $1

4 port DVR card, call for more info. Home automation systems available also. Full dist/fact support.
---
Hard Drives: New, in pkg. . 100gig, $69.
10g:$29 (refurb)
Need a boot drive for a workstation ? 540m to 2g clean, $5.
---
Items shipped by FED-EX Ground to non-rural areas, UPS & USPS elsewhere. FED-EX Ground is cheapest to a business address..

Prices subject to change due to availability, cost or any other factors. Not responsible for typographical errors In other words, don't send money before price is confirmed by E-mail or phone. See "Fine Print" section for warranty info & terms..
---
Some Hamfests / computer shows. ( I plan to go to * )
See the ARRL and the Texas Hams Hamfest Lists also.
2009
*Aug 7-8: Austin,TX . .Fri-Sat. At a large hotel, Tailgate but no RV parking. Good social event.
*Aug 8: Leesville, LA. Small hamfest. New location. Small parking lot, RV's may have to park across the street or at the fairgrounds, 1 mile away. Hookups at the fairgrounds.
*Aug 22 : Gainesville, TX Small hamfest in a civic center. Motel next door, RV parking w/hookups.
Sept 11-12: *Mena, AR Campout/tailgate in a state park. (Fri-Sat). RV parking x
*Sept. ?: Lake Charles, LA . They feed you good. RV parking w/hookups.
*Oct 3: BELTON, TX. Big campout,BBQ,Tailgate! Get there Fri. afternoon! RV parking, (dry) x
*Oct 9-10: Paris, TX. Hamfest. At a fairgrounds, should be room for RV's.
Oct 10:Alexandria/Pineville, LA. In a county park pavillion. RV parking should be ok.
Oct 23-24: Texoma Hamrama New location: Ardmore Convention Center. Dry RV parking. .
Nov.14: Azle, TX. Haven't been, pictures look good.
Dec. : Minden, LA. Small. Nice little town. Good restaurants. Has RV park 10 blk. away..Jan : San Antonio, TX New location. Was good they said. Jan : Hammond, LA Very low attendance since Katrina. RV parking, dry. Jan ? : Houston Amateur Radio Sup. Tailgate sale. ICOM prizes. RV parking, in a shopping center, dry. Feb ?: Jackson, MS Reserve tables by Dec. At a fairgrounds, RV parking nearby.. Feb. 7 (Sat): Georgetown, TX Nice small Hamfest, new date/day. new location at a VFW. Should be able to camp.. Feb 28: Orange, TX good RV parking. March 7: *Houston (Rosenberg) Fri - Sat Has RV park. For hookups, get there before 4:30PM, $15. Note: Lots of the vendors were unhappy with some of the hassles. Handicapped parking nonexistent. Mar. 14: Irving, TX Haven't been .Mar. 21: Midland, TX, and Irving, TX Mar. 13-14: *Rayne (Lafayette), LA Fri nite crawfish boil. Plenty of RV parking w/elec. Mar. 13-14:Tulsa,OK. Actually at Claremore. Good hamfest. Apr 4 : Weatherford, TX Small. April 18:*BELTON, TX. Big campout,BBQ,Tailgate! Get there Fri., have fun. RV parking, dry. There is usually so many campers it looks like they are having an RV show Apr. 25: Monroe, LA. Nice small social event. RV parking w/elec. May. 20: Benton, LA. Swapmeet & Cookout. At Cypress Black Bayou Recreation Park. Should be good w/RV. *June 12-13: HAM-COMM, Plano, TX. Small inside, most of flea market outside or tailgate. RV parking ok, dry. .*July 11: Texas City, TX, Nice small social event. RV's park dry. *July : Slidell, LA. Small hamfest. No RV parking. 5mi. to nearest RV park. July : OKC, OK . Fri-Sat, has a RV park w/hookups 2blk. . Lufkin, TX, At a Baptist church. RV parking maybe ok dry.
Recurring, (as I have time): DALLAS 1st Sat. Sidewalk sale. NOTE:It has moved! Click on the link to see where.. . San Antonio, TX ComputerBlast
Note: RV parking (dry) means NO HOOKUPS, not under cover. We need more RV'ers coming to these Hamfests, lots of them are in good places to visit, and the ones that have good RV accommodations, like Rayne, Baton Rouge, Lake Charles, Mena,AR, are an excellent value, plus you have something to do . .
See what it looks like in Houston today: Watch Houston Traffic ..
Ham Radio/customer websites: . .CB Museum by Woodyworld . . Pump Handle's Ham Radio Campers
Notice: Not responsible for any viruses, inaccuracies, undesired content or any other unhappiness spread by the links ! AND: some of the events may have not updated their sites, but they will get around to it.
:::::::::::::::::::::::::::::::::::::::::::::::::::::::::::::::::::::::::::::::::::::::::::
SOAP BOX DEPT. (Stuff I don't like)
Companies that advertise cheap stuff on the internet, but won't sell it to you at their front door. They want to stick you for that extra $15 shipping that costs them $4.
Rebates that are so complicated you need an accountant to figure them out!
:::::::::::::::::::::::::::::::::::::::::::::Back::::::::::::::::::::::::::::::::::::::::::::::
Download & print my Motherboard step by step replacement instruction sheet if you are doing an upgrade.
---
WANTED TO BUY: CPU's > 1.5 ghz, 20 gig & up hard drives, Memory, DVD-RW's, other computer stuff.
HAM RADIO equipment wanted, will trade if it isn't too heavy.
---
ALSO ON STOCK: Really stray stuff you might need for your old computer or radio:
Crystals for old CB Radios, HAM rigs. VACUUM TUBES, mostly 60's TV stuff. Power Transformers for low & high voltage apps. Transistor signal xfmrs, Power supplies, closed or open frame, 5v, 12v, 24v, .5A - 5A. Also multiple voltages. I just found some of those 110v 7w bulbs w/2 pin bayonet base.
"Wall Brick" AC adapter, 6v, 500 ma. $2. Other pwr sup. avail.
IC's, linear and digital, various electronic parts, power supplies, cabinets, etc. (No TV repl. IC's)
More items to be added as I have time to sort out & list them. I have a shop where you have to step over stuff.
:::::::::::::::::::::::::::::::::::::::::::::Back:::::::::::::::::::::::::::::::::::::::::::::::::::::::
TERMS & WARRANTY INFO (All that fine print stuff)
Please excuse me for not being up with some of the new automated ways of doing business, but I still like the personal contact!
---
Texas customers must pay 8.25 % sales tax. All others are advised to remit any local/state taxes due to their own authorities.
---
Can send UPS COD or prepaid, USPS, I use Fed-Ex Ground (RPS) to non-rural areas, UPS elsewhere.
---
If we have not previously done business: Orders must be prepaid by a cashier's check, Traveler's check, or money order that I can verify. Most 7-11 store M.O.'s can't be verified. If you send personal check, will wait 4 days (TX )or 1 week (out of state) for it to clear. COD's: Send shipping cost in advance, (about $10-15) If someone I know can vouch for you, I can modify these conditions.
I am not set up to take Master Card, etc, one of these days I may have it..
$25 FEE ON RETURNED CHECKS + costs of collection if your local DA fails to prosecute.
---
New items: 90 day warranty from DF Electronics, and/or factory warranty, whichever is longer. Item(s) may be returned and will be repaired or replaced at discretion of seller. If failure is due to mis programming by buyer, return item along with $5 to cover shipping, it will be re-tested, set up and returned. If you are not knowledgeable of board handling & installation procedures, please have a technician install it. Installation damage, modification & non-payment void all warranties.
---

Don't Break It" warranty: Discontinued or Tested/Used items are under the "Don't Break It" warranty: Item has been tested. If for some reason you can't make it work or is not compatible with your system, you may return it for credit, BUT if it has been DAMAGED and/or rendered defective and unrepairable by the installation attempt, YOU are STUCK with it, NO REFUND or credit will be given.
Call anyway, Maybe I can give you a good deal on another one or something else. That's one of those things, friends come and go, but enemies accumulate. I don't want to have too many enemies out there.
---
Used / bargain items: No warranty whatever, totally AS-IS. If it doesn't work, let me know, I'll give you a break on another one.
---
Unless agreed to in advance in writing, All sales are final; however, if Seller agrees in writing to issue a credit, then Buyer agrees to pay a restocking fee (15%) of the invoice price plus all freight and handling charges ) for goods returned within fourteen days after delivery. Due to industry volatility, goods returned after fourteen days may be credited based on current price instead of invoice price. Only goods that are in brand new and salable condition, packaged in their original cartons, and accompanied by all their accessories will be accepted for credit, if not, any allowance will be based on the diminished value.
Any disputes will be settled in Harris County, Texas jurisdiction.
Prices subject to change due to availability, cost or any other factors. Not responsible for typographical or calculation errors.
:::::::::::::::::::::::::::::::::::::::::::::Back:::::::::::::::::::::::::::::::::::::::::::::::::::::::